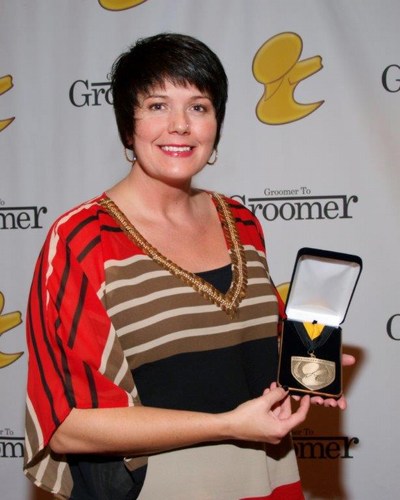 From the age of 9, I spent my summers grooming dogs and my weekends showing dogs. My family bred some of the top Yorkshire Terriers at that time. I was a junior handler in 4-H and AKC and I developed an eye for a well built dog early in life. My mom owned a pet grooming salon in Lawrence, Kansas called Cathy's Showcase Grooming. At the age of 21 I started grooming full time in the salon and worked there for 5 years, but I dreamed of living in the Pacific Northwest.

In 1998 I moved to Portland Oregon. I worked at the Oswego Veterinary Hospital as the lead groomer for 6 years. I completed my master certifications for both the International Professional Groomers Incorporated (IPG) and the National Dog Groomers Association of America (NDGAA) during that time. I also became a certifier for IPG and I helped many others prepare for their certification exams. This was a big part of the development of The Grooming Tutor in 2000.

While living in Portland I acquired my own show dog, an Irish Water Spaniel (IWS). I finished Ruby myself and helped groom and handle many other IWSs to their championships. I further developed my conformation handling skills by taking seminars and attending handling classes as well as trial and error. While I have never been a professional handler, I have exhibited over 25 breeds in AKC shows and even some in Canada. Mostly they have been clients who purchased a show puppy with no knowledge of showing, or students and colleagues who need help. Soon many breeders were asking my opinion about grooming, handling, structure and conformation. Helping breeders and other exhibitors evaluate and groom their dogs was also part of the development of The Grooming Tutor.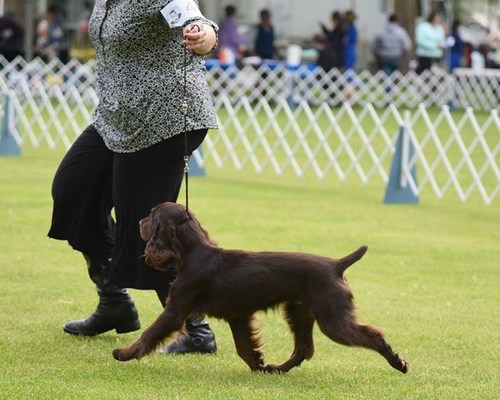 During my time in Oregon I was the president of the Pacific Northwest Professional Groomers Association (PNWPGA). One of my focusses for the organization was to make learning and sharing possible for local groomers. I organized multiple educational and social events and produced a monthly newsletter. This was valuable because the internet was not an established educational and networking source at that time.

I moved to New Mexico in 2004 and opened a small grooming studio in my home, Studio Canine. The local grooming community said that no one would pay the prices that I expected and that no one wanted stylish grooming. After being open only a year I had a waiting list, all while charging the prices that I expected for sought after stylish grooming. I volunteered almost every Friday for 3 years at the city animal shelter. Most of the dogs that I groomed were adopted on the following weekend. I also trained my personal dogs in obedience, agility and tracking during this same time.

I developed the Southwest Professional Pet Groomers Association (SWPPGA) in 2005. As president, I worked on programs to educate the local grooming community so that we could all offer more stylish grooming and charge higher prices. I was also a SWPPGA representative working against the Humane and Ethical Animal Rules and Treatment (HEART) ordinance. This was a local ordinance that effected many aspects of how grooming businesses operated within the Albuquerque city limits. The HEART ordinance was passed, but it was passed with less complications for groomers thanks to myself, the Rio Grande Kennel Club and a group of dedicated groomers who worked tirelessly to defend our rights.


During my time in Albuquerque, I worked all over the US and Australia holding educational workshops and administering certification exams for IPG. I ended my work with IPG in 2009 when I started competing full time.

In 2009 I started my pursuit to earn a spot on the Groom Team USA travel team. I ended 2009 #6 in the country despite having missed 2 major shows due to surgery. I ended 2010 as #3 which earned me a spot on the 2011 team that went to Kortrijk, Belgium and won the SILVER medal for the United States. I continued competing in 2011 and ended the year #2 in the country. This earned me another spot on the 2013 team that went to Barcelona, Spain. This time we won the GOLD medal! I retired from grooming competitions after that day. I competed for a total of 3 years full time.

During my competition career I won countless Best in Shows and Best All Around Groomer awards. I earned the Liz Paul Best Scissored Poodle Award as well as the Liz Paul Memorial Trophy for the most Best In Shows in 2011. I was nominated for multiple Crystal Grooming Awards and I am the proud recipient of the Barkleigh Honors Competitive Groomer of the Year Award for 2011 and the Contribution to the Industry Award for 2014. Also In 2014, I was given the Show Dogs Groomer of the Year Award at the Westminster Kennel Club Dog Show.

From 2011-2013 I completed my International Society of Canine Cosmetologist (ISCC) Master Pet Stylist Meritus.

In 2012 I took a job as an educator for andis clipper company. I worked for them for 5 years. My main job was to demonstrate using their tools while educating groomers in their booth at tradeshows around the US and Canada. This was a great way to educate because groomers can get right-up-close and see what you are doing on the trade show floor. I enjoyed my time with andis and it was a great way for The Grooming Tutor to reach groomers.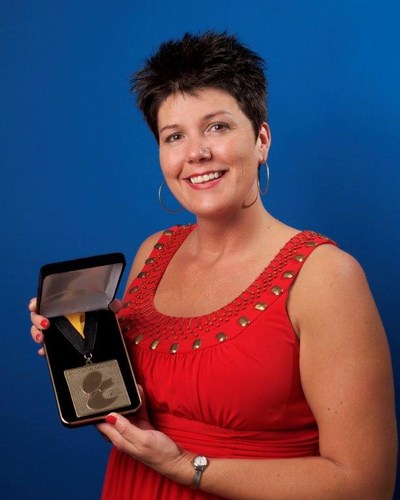 I also started judging grooming contests in 2012. I apprenticed with the International Judges Association (IJA) and the United Show Managers Alliance (USA) in the US and the European Judges Association (EGA) in France and Spain. Judging grooming contests is something that I take very seriously. I work tirelessly to keep up on current styles and know the breed standards for the breeds that I am judging. I also try to groom them myself so that I have a full understanding of what is required. When I judge creative grooming contests I research each creation while they are working on them. I will often ask many questions about the creation so that I may better understand the artist's perspective. I was honored to receive the Barkleigh Honors Up And Coming Judge of the Year Award in 2013.

In 2013 I moved back to Portland, where I belong, and opened my dream salon. After years of teaching in salons all over the world I knew how I wanted to design my salon and how I wanted it to function. Canine Perfection is a state-of-the-art facility with the best of everything. I attract talented groomers who like to call grooming a career rather than a job. All my stylists are required to attain their Certified Master Groomer status. My salon has grown into the most respected and high-end pet salon and spa in the Portland Metro area.

In 2016 I started writing my column in Groomer to Groomer magazine called Ask The Grooming Tutor for which I have won the Barkleigh Honors award for Journalist of the Year multiple times. This is a delightful way to reach The Grooming Tutor followers.

In 2018 I earned my Certified Feline Master Groomer certification (CFMG) from the National Cat Groomers Institute. My philosophy is that if I am going to employ and manage cat groomers I better be really good at grooming them myself.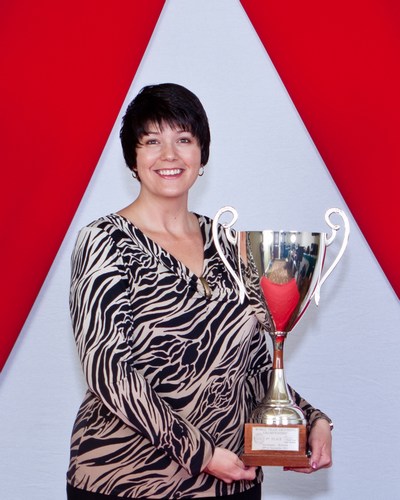 I continue to work at trade shows doing grooming demonstrations and teaching classes on business and employment, goal setting and retirement to name a few. I have a wealth of knowledge and can speak on almost every topic that pertains to the pet grooming industry and I can demonstrate on nearly any breed. I enjoy the trade show setting for teaching as The Grooming Tutor because it reaches regional audiences.

I teach hands-on grooming lessons to small groups and individuals in my salon and all over the world. The hands-on lessons are customizable and may include breeds studies, technique studies and efficiency studies. With a lifetime of grooming experience, I offer business rehabilitation counseling, general business consulting, business workshops, employee management seminars and salon organization and configuration guidance.

The Grooming Tutor 12 Step Method is the culmination of years of teaching speed grooming with style and quality. I work tirelessly to improve and develop my 12 Step Method as well as my podcast, column, educational videos, workshops, demonstrations and written articles.

Pet grooming offers an endless opportunity to learn, grow and develop. As I gain knowledge I share knowledge.